Fishers Forging a Bright Future: Stories of Three Somali Fishers & the Impact of Fisheries Data Collection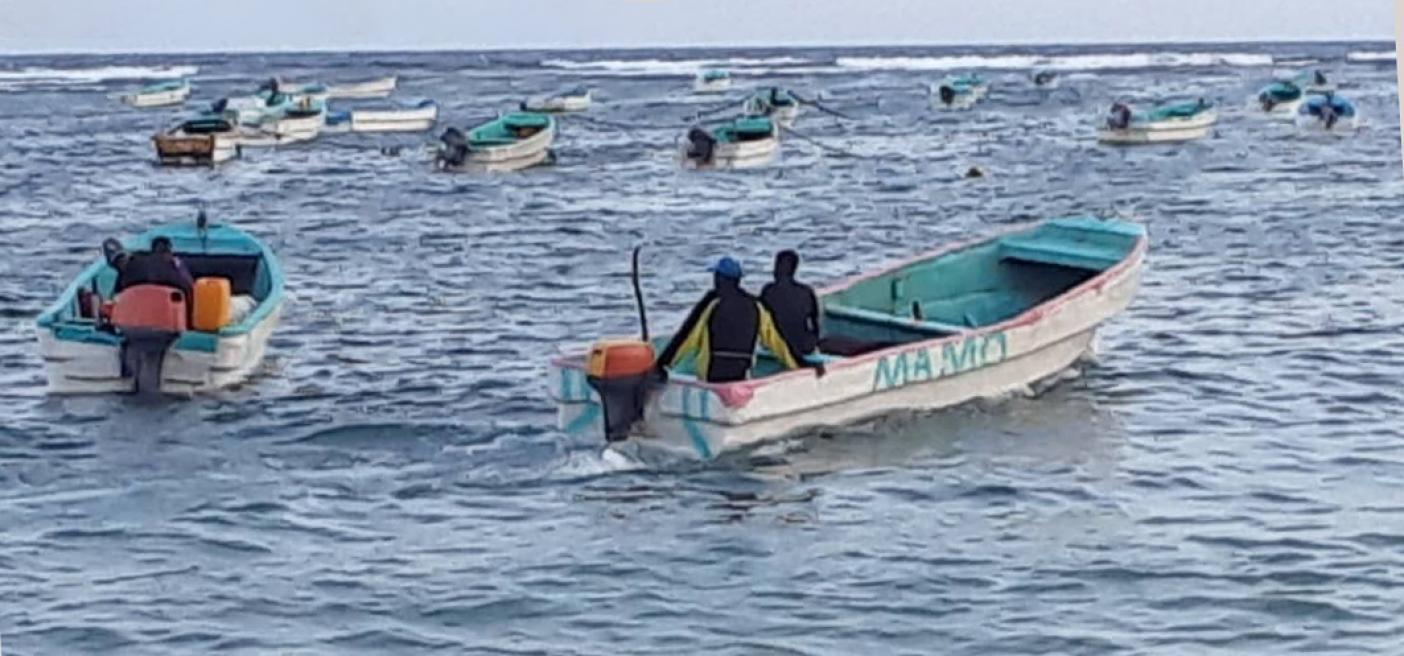 "I remember that back in the late 1970s there was a time when tuna fish was very plentiful in this area. There was one particular time back in 1978 when a really large amount of tuna fish was brought in by the fishers and the cooperative couldn't cope with it because all of their freezers were full so there was nowhere to put it!" - Hassan Mohamed Roble, Mogadishu Fisher.
Somali waters host vibrant coral reefs, dense mangrove forests and other diverse marine habitats where fish populations flourish. The Somali coast is home to approximately 10,000 part-time and full-time fishers and, according to the report Securing Somali Fisheries, an additional 30,000–60,000 people are involved in the fishing economy.
When fisheries resources are overexploited or misused, conflict may occur. One Earth Future's Secure Fisheries program works with community stakeholders to strengthen fisheries governance, combat illegal fishing, and promote sustainability as a catalyst for greater peace in the region. Secure Fisheries has partnered with the regional governments and local fishers to begin collecting fish catch data and offering trainings to local fishers and the community to collaborate with them around these coastal issues.
These efforts are the first step toward developing a full understanding of Somali marine resources, their health, and how best to manage them to support coastal communities into the future. To learn more about Secure Fisheries' impact in the Somali communities, we spoke to three local fishers to hear their personal stories.
Data-driven Decision Making
Meet Hassan Ali Yusuf, Mogadishu

"When I first started fishing, I was simply a young man looking to learn a trade, and the idea of venturing out to sea as a fisherman appealed to me. It was an adventure in a way. Naturally, when I saw that there was money - a livelihood - to be made in it, well, I just stayed with it and I have been in it ever since." - Hassan Ali Yusuf.
Hassan Ali Yusuf is a fisher in Mogadishu and a data collector for the Fisheries Data Collection Working Group Project (FDCWG) that Secure Fisheries coordinates with funding from the UN Food and Agriculture Organization.
Yusuf started in the fisheries sector at age eleven. He began as a fish carrier for boats unloading at Lido Beach, Mogadishu, hauling the catch from boats moored in the shallows near the beach to the fish market. From his modest earnings, Yusuf was able to save up enough to buy his own fishing gear. In the mornings he would work as a fish carrier, then in the afternoons he would go fishing along the coast for himself, selling whatever he could. At age fourteen, he started working onboard a fishing vessel as a rower, and soon he was able to save enough money to buy his own rowing boat, providing a steady income to support his family. Today, Yusuf is working as an independent fisher, bringing in tuna, mackerel, and sharks.
As a data collector, Yusuf says he has learned a lot about how to conduct systematic data collection and measurement. He is occasionally greeted with skepticism from other fishers when he approaches them to collect data, but assures them that the research he is doing will benefit the local fishing community. Yusuf's efforts, along with those of the data collectors in other coastal towns, will build understanding of the health of fisheries, inform appropriate levels of sustainable exploitation, and guide effective business models. In turn, more private investors and donors will be willing to invest in the fishing industry of Somalia.
"The data collection that Secure Fisheries and others do is really important because you can only manage your fishery resources when you know what's out there. To make an analogy, you can only manage your personal spending when you know how much money you have in your pocket. That's what the fisheries data provides us," shares Yusuf.
The Future of Fisheries: Collaboration & Leadership


Meet Hassan Mohamed Roble, Mogadishu

"The data collection project has had a good start. We need to build on what has been achieved and continue with it." --Hassan Mohamed Roble
Hassan Mohamed Roble is the Chair of Hibo Fishery Community Development Organization in Mogadishu, Somalia. He is also a member of the Technical Working Group that is part of the Fisheries Data Collection Working Group Project (FDCWG) that Secure Fisheries coordinates.
Roble began his work in fish processing in the early 1970s. One day in 1973, he stumbled upon some young fishers joining a newly formed fishery cooperative, so he joined up as well. Eventually, in 1983, he was entrusted with the position of being the treasurer of the fishery cooperative, and he has been a member of the fishing cooperative ever since.
Roble is now the chairman of the Hibo Fishery Community Development Organization, which is an umbrella organization consisting of cooperatives from throughout South and Central Somalia. In 2012, Roble started his own business, supplying local hotels, restaurants, and seafood exporters with marine products such as lobsters, octopus, squid, and crabs. Today, his main customers are the foreign embassies in Mogadishu including the American, Italian and UAE embassies.
Roble's 47 years of experience in the fishing industry tells him that fishery data collection can positively transform the impact of any fishery management body that is formed in the future. He anticipates that fishery data collection is just the start of a hopeful new beginning for the Somali region.
"Somalia is slowly recovering from the period of turmoil that bedeviled it for decades, and I believe that if people with experience in fisheries management are put into key positions then they can help to develop the capacity and sustainability of the industry," shares Roble.
It's true that well-managed fisheries can lead to stability after conflict. The Secure Fisheries' 2020 Rough Seas report shows that, "In the Somali region, the stability of fisheries and the maritime domain more broadly are critically linked to the economic and physical security of the Somali people. As Somali waters are the gateway between the Indian Ocean and the Red and Mediterranean seas, smooth passage facilitates maritime economic commerce on a global scale."
If you're interested in the work our Secure Fisheries program is conducting, we invite you to check out their latest blogs and reports by visiting SecureFisheries.org. Together, our scientists, researchers, local government, and of course, fishers are working toward sustainable and more efficient utilization of the marine resources off the Somali coast.
Modernizing Somali Fisheries


Meet Abdulqadir Geelle, Bandar Beyla

"I was born a fisherman, my father was a fisherman and he taught me how to fish. My family is fully dependent on fishing activities, so I don't have any other option. I must fish in order to provide food and education for my children. I am happy being a fisherman and I look forward to developing my skills further." --Abdulqadir Geelle


Born and raised in Bandar Beyla, Abdulqadir Geelle began working in the fish industry at age 14 as a cook. At 17, his hard work and effort paid off and he began fishing. Currently, Geelle owns a small, engine-powered boat called a layla calawi that he and his three crew members take out for fishing every day during the fishing season, September through May.

In the next few years, Geelle's hope is to see his business grow to the point where he can own bigger boats with access to refrigerator systems and cold storage. Additionally, he's hoping to explore the parts of the local market that have untapped potential to expand to other domestic markets outside of Bander Bayla. What could hinder his progress towards his goals though, is a lack of resources and training. That's where the Secure Fisheries programs come in.

"Secure Fisheries is helping us to better manage our resources. I think it is important to know what is in our ocean and the impact of overfishing and illegal fishing as well, and Secure Fisheries helps with understanding that," shares Geelle.

Geelle believes that the fisheries data collection and trainings Secure Fisheries conducts in Somalia are crucial because they allow fishers to understand what resources are in their waters, the impact of overfishing, and the importance of timely data on illegal fishing. The trainings have made all the difference for him, showing him that fish are finite and overfishing does much more immense damage than just what's surface level.

To get a jump start on overcoming those challenges, Geelle participated in the net-making training organized by Secure Fisheries. There, he learned how to repair his torn nets, a task he formerly paid others to complete. Training like this helps keep the skills and economic benefits local and provides resources to the community so that they don't have to outsource skills to providers in the big cities.

In the end, among those collecting catch data and those using it to benefit the fishing industry, all of our local fishers in these communities agree on one thing: the future of the Somali fishing industry is bright if we continue to build upon this foundation of understanding and cooperation.