In UN Peacebuilding, Local Ownership Takes Backseat

Local ownership of peacebuilding activities makes sense in theory, but is rarely put into practice in UN peace operations. This was the main message of a talk I gave recently at the Permanent Mission of Norway to the United Nations, which was organized by the journal Global Governance.
The -11C temps and lingering snow from the day's previous storm thankfully did not deter the group of UN ambassadors, members of the UN secretariat, university professors, and think tank staff who came to listen and to share their experiences with the theory and the practice of peacebuilding.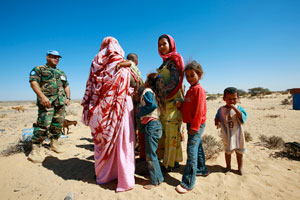 After my opening remarks, those present explored the ambiguity surrounding local ownership in peace operations. It was noted that post-conflict contexts are not "blank slates," but rather contexts where a variety of actors hold immense amounts of power and this complicates the question of who is really in charge of the efforts to bring countries emerging from war to a stable peace. These ambiguities need to be managed constructively, but the UN often lacks the capacity to channel them into political strategies. Three initiatives are, however, helping to increase the focus of these questions: the 15-year High Level Review of Resolution 1325 on Women, Peace, and Security, the High-Level Independent Panel on Peace Operations, and the 10-year Review of Peacebuilding.
Norwegian Ambassador Geir O. Pedersen then mediated a lively discussion. One ambassador spoke about the very good intentions of UN staff who sign up to work in peacebuilding, but suggested that more training was necessary for staff to understand the local context to work more effectively with the local communities. He also noted the importance of balancing the need to work with locals alongside the fight against impunity for those who might have been involved in atrocities during conflict—linking local ownership to the debate on peace vs. justice.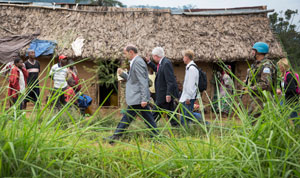 Another ambassador echoed the call for the need to understand local cultures and to be sensitive towards local views. It was remarked that while there is a need for the consent and cooperation of host countries and a need to consider their priorities, the state has disintegrated to such an extent in some places that we cannot speak of local ownership at the national level.
Speaking on behalf of a country that has hosted UN peacebuilding activities, another ambassador remarked that there are limits to the amount of "social engineering" the international community can undertake. While the success of certain peacebuilding efforts is indisputable, he stressed that self-determination must be preserved and it is unrealistic to expect that developing countries can be politically or socially transformed overnight.
Representatives of the International Peace Institute noted that the focus on local ownership in recent years has meant that civil society has played a larger role in peacebuilding processes. Several participants agreed that UN staff often do not have the capacity, time, and guidance for addressing these questions. While UN staff come with ambitious and principled goals for peacebuilding, they often also bring with them assumptions about the contexts in which they are working and are required to focus on short-term results rather that the longer-term challenges of ownership and inclusion.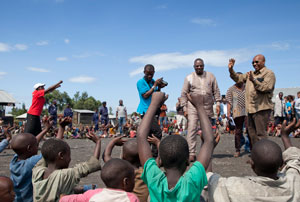 It was gratifying to see my academic work resound with those on the front line of UN policymaking, in particular as the UN undergoes major reviews of its peace operations and of its peacebuilding architecture. As a scholar as well as a former UN staff member, I am deeply committed to bringing together the academic and policymaking communities in order to share knowledge and perspectives, and I believe firmly that academic research should be relevant and useful for policymakers. It was therefore valuable to see not only that the participants were broadly in agreement regarding the challenges and contradictions surrounding the discourse and implementation of local ownership that my research outlines, but also the possible ways forward for the UN.
Many thanks to Ambassador Geir O. Pederson and the staff of the Permanent Mission of Norway for hosting this event. Thanks as well to the One Earth Future Foundation and ACUNS for organizing this talk as part of the new Global Governance discussion series, which convenes actors working on current problems from a variety of perspectives. My paper, "Local Ownership and UN Peacebuilding: Discourse vs. Operationalization," will be published in Global Governance in May, 2015.